Matthew P. Hardy Young Andrologist Award
DESCRIPTION
This annual award is bestowed upon an Active Member of the American Society of Andrology who at the time of the award, is less than forty-five (45) years of age and who has made significant contributions to the field of Andrology. The award was known as the Young Andrologist Award from its inception in 1982 through 2014.
NOMINATIONS
The ASA Awards Committee asks for nominations each year in July. Only ASA members are allowed to nominate individuals for this award. The deadline to submit nominations to the Awards Committee is late August/early September.
2020 Matthew P. Hardy Yound Andrologist Award Winner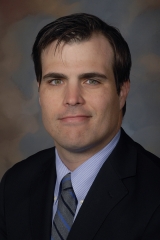 James M. Hotaling, M.D. M.S., FECSM
University of Utah School of Medicine
As a rising star physician-scientist, Dr. James Hotaling has not shied away from contributing to the American Society of Andrology while building his nascent clinical and research career. He has served ASA as a member of the Industrial Relations committee, and currently, is a member of the ASA Board of Directors. Dr. Hotaling also contributes substantially to the missions of the Society for the Study of Male Reproduction and the American Society of Reproductive Medicine.
Dr. Hotaling completed his undergraduate training at Dartmouth College with dual bachelor's degrees in History and Biophysical Chemistry, graduating magna cum laude in 2002. He then received his MD from Duke University School of Medicine in 2006 and completed a 6-year residency at the University of Washington, where he trained with one of the top penile reconstructive surgeons in the world, Dr. Hunter Wessells. There, he received extensive training in Erectile Dysfunction, Peyronie's Disease and Male Infertility. During his time in Washington, Dr. Hotaling also completed his master's degree in Clinical Epidemiology. He also completed Andrology fellowship training under the direction of Dr. Craig Niederberger at the University of Illinois at Chicago. There, Dr. Hotaling also received extensive training in micro-surgery, including Testicular Sperm Extractions (TESE), Micro-dissection Testicular Sperm Extraction (microTESE), and Vasectomy Reversal. He is also one of the only Men's Health and Infertility experts in the United States to have undergone additional training to become a Fellow of European College of Sexual Medicine (FECSM). Dr. Hotaling joined the faculty of the Department of Surgery, University of Utah School of Medicine in 2013 and earned tenure 2019.
Dr. Hotaling has been an active researcher throughout his young career, having contributed substantially in the following areas: using large scale data to examine the impacts of male infertility on familial somatic health, developing novel technologies to advance male fertility and men's health, understanding the genetic basis of erectile dysfunction, developing tissue banking programs for male infertility research, and applying this resource in collaboration with Dr. Bradley Cairns to understand the basic biology of spermatogenesis. This collaboration has resulted in two seminal co-corresponding author papers in the top-tier journal Cell Stem Cell, among other papers, detailing characteristics of germ cells in the human testis at the single-cell level. Overall, his work has resulted in an extraordinary 150 publications over such a short time. Dr. Hotaling has received significant funding from NIDDK to examine the genetics of erectile dysfunction susceptibility and develop a uroflowmeter for Lower Urinary Tract Symptom diagnosis. He also founded a company to develop a microfluidic sperm sorting device for processing TESE samples that has received significant NSF STTR and NIH SBIR support.
As a clinician, Dr. Hotaling currently performs the most penile implant surgeries in the Intermountain West region for the treatment of Erectile Dysfunction and has superb outcomes for micro-surgical Testicular Sperm Extraction (microTESE). "My goal in working with patients is to help them achieve their fertility and/or men's health goals with the most cost-effective and data-driven means possible," he writes, describing his clinical and research motivations.
In recognition of his exceptional clinical and research achievements in the field of Andrology in a budding career, and his service to the society, the American Society of Andrology is pleased to present the Matthew P. Hardy Young Andrologist Award to Dr. James Hotaling.
2020 James M. Hotaling, MD, MS, FECSM
2019 Mariano G. Buffone, PhD
2018 Michael L Eisenberg, MD
2017 Polina V. Lishko, PhD
2016 Lee B. Smith BSc PhD FRSB
2015 Jon M. Oatley, PhD
2014 Sarah Kimmins, PhD
2013 Jacques J. Tremblay, PhD
2012 Wei Yan
2011 Humphrey Yao
2010 Peter Liu
2009 Michael A. Palladino
2008 Moira K. O'Bryan
2007 John K. Amory
2006 Janice P. Evans
2005 Janice Bailey
2004 Kate Loveland
2003 Joanna E. Ellington
2002 Christopher L.R. Barratt
2001 Jacquetta M. Trasler
2000 Matthew P. Hardy
1999 Stuart E. Ravnik
1998 William R. Kelce
1997 Gail A. Cornwall
1996 Paul S. Cooke
1995 Christopher J. De Jonge
1994 Wayne J.G. Hellstrom
1993 Robert Chapin
1992 Gary R. Klinefelter
1991 Patricia M. Saling
1990 Luis Rodriguez-Rigau
1989 Barry T. Hinton
1988 Larry Johnson
1987 Ilpo T. Huhtaniemi
1986 Stephen J. Winters
1985 Bruce D. Schanbacher
1984 Lonnie D. Russell
1983 William B. Neaves
1982 L.J.D. Zaneveld